FAQ
Most Common
Questions
Questions
When will you open?
Supply Chain and staffing issues have caused a delay in our projected opening date. We are anxious to open and serve you our amazing wines! Please check our social media for updates.
Where are you located?
We are located in the historic downtown Pilot Point at 111 S. Jefferson St. Pilot Point, Texas.
What are your hours?
CURRENTLY OUR TASTING ROOM IS STILL UNDER CONSTRUCTION
Once open our hours will be: Thursday through Saturday from 1pm- 8pm. Our last tasting is offered at 7:45 pm.
For Special events on Saturdays we will open at 11 am. Please check the events page for these dates.
We will be closed for Thanksgiving Day, Christmas Day, New Years Day and close early on Christmas Eve and New Years Eve.
Are Reservations required?
Reservations are not required, however, our tasting room has limited seating and reservations are encouraged.
Reservations for parties of 6 or more are strongly encouraged, without reservations we cannot guarantee that your entire party will be able to sit together.
For groups of 8 or more reservations are required.
To make reservations click here or call.
Can I bring outside food and drinks?
Outside food and drinks are not allowed.
Do you have events or live music?
Please check our events page and social media for upcoming events.
I am with a band or a musician and would like to book a performance.
Do you allow Children or Pets?
Children are allowed as long as they are well behaved and not disturbing other guests. If disruptive children are observed then your entire party will be asked to leave.
For safety reasons, we only allow service animals.
Do you have a vineyard? Where do your grapes come from?
Our goal for the future is to establish a vineyard at our family farm in east Texas.
Currently, we purchase grapes from growers in both west and east Texas. With its extreme climate, variable soils and elevations, Texas has the ability to grow a multitude of unique grape varieties. These conditions are often expressed in the wines.
Have a general question that is not included or you can't find the info you are looking for?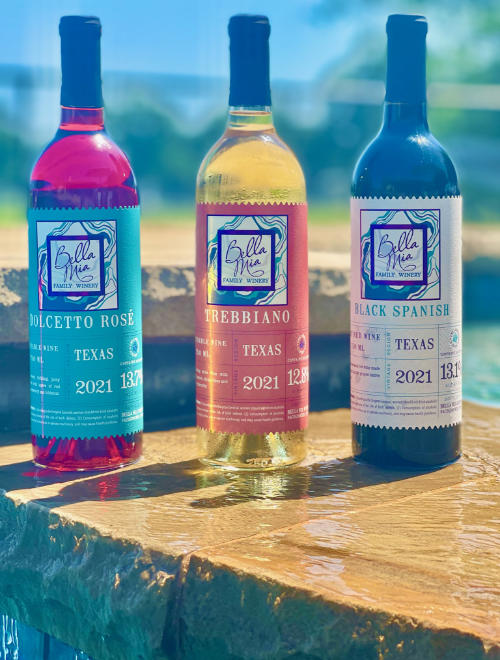 Conveniently located one hour north of DFW, near Lake Ray Roberts, 30 minutes from Choctaw Casino.